QuickTouch – Automatic Clicker is a very simple clicker with no extra pages except the function page. It is suitable for users who only need simple functions. The following will describe some of its advantages and disadvantages from several aspects.

The advantages of QuickTouch – Automatic Clicker.
First, this clicker has an auto-start function. When you select an application that needs to be clicked automatically, the application can be launched automatically afterward. In other words, next time you do not need to open the application, you can directly click the configuration of the automatic clicker to open the application. This feature is very convenient and can help users save time.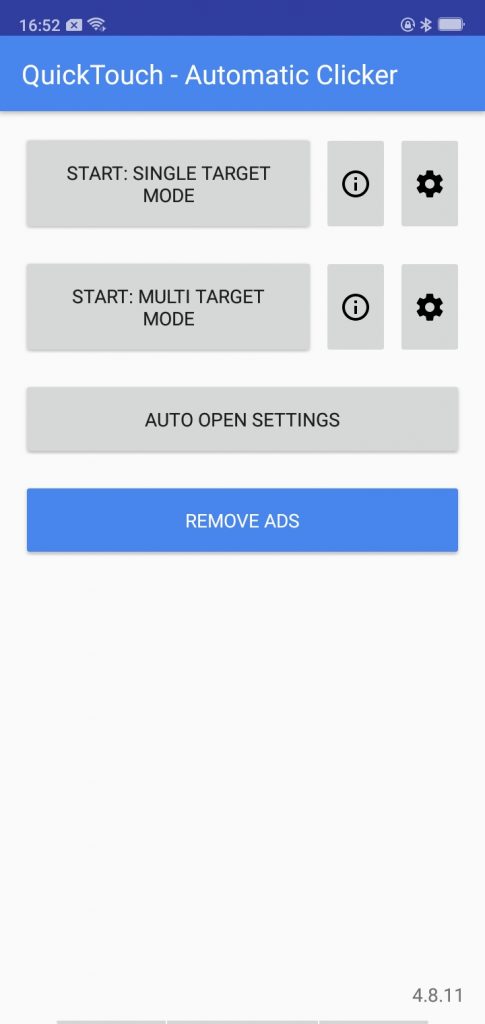 Second, this clicker page is simple and well-designed. Unlike other clickers with many function pages and other interfaces, this clicker has only one main page, as shown in the picture. The exclamation point next to the mode will give you a brief explanation of the function to help newbies understand how to use the clicker. The floating window is also easy to use. Tap the plus sign to add a click target, and hold the plus sign to add a sliding target, which reduces the area occupied by the floating window. Floating windows can also be superimposed, which will not prevent users from watching the phone screen or playing games.
Thirdly, there are no ads inside the app, and all features are free. The frequency of ads is low and does not affect the use. And you can spend money to remove ads.
The disadvantages of QuickTouch – Automatic Clicker
First, it does not have any advanced features, can not adapt to complex scenarios, and can not meet the need of multi-functional users.
Second, there is no click icon in single-point mode. There is no way to resize or fold the floating window, which will affect the use of the screen.
In general, the page and function design of the clicker is clean and sophisticated, suitable for users who like simple pages and functions.
Download Address: https://play.google.com/store/apps/details?id=simplehat.clicker