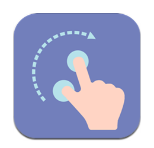 Clicker Assistant
Version: v2.3.7 Android version Size: 54.3M
A fantastic clicker program is the Clicker Assistant app. This effective tool can help you quickly and easily click to acquire tickets and perform other tasks! It can powerfully enable you to release your hands and accomplish a variety of game software on-hook experiences more quickly!
Introduction of the newest program, Clicker Assistant
The user interface is straightforward and simple;
It's simple to record your own hand movements;
Two sliding modes-two-finger zooming and original curve slide;
You can customize each click by adjusting when it starts , duration, and number of repetitions.
Software functions
Click or swipe more than one spot simultaneously.
Timed Start: Begin clicking at a certain time.
Stop clicking at a specific moment, automatically.
Random time: press, swipe, or tap interval
Grouping Processes: Alter the sequence in which the setup steps are carried out.
You can instantly navigate small videos with swipe motions.
The start point and finish point of a sliding line are placed above the video when it is clicked to create one. The auto clicker can glide to the screen once you press the start button to assist you in switching videos automatically.
Note: Make sure the sliding route is as long as possible before adjusting the interval to your needs.
You can complete automatic surfing and likes with a few simple settings, and you can swipe videos without moving your hands.
It's easy. To explore the app's more powerful features on your own.