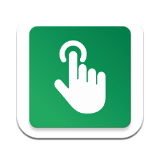 Hero Mouse clicker
Version: v3.5.1 Android version Size: 18.0M
A fantastic clicker tool is the most recent edition of the hero mouse clicker. Simple click settings to aid in free gaming click operation. The most effective looping method is a safe script that works with every game software!
Introduction of Hero Mouse clicker
1. Take the red envelopes automatically and swiftly. This eliminates the concern that your hand speed is slower than others and allows you to quickly grab all the red envelopes in the group.
2. When you watch a little movie, the time will automatically change, and when you read a book, the page will automatically turn.
3. Complete all game tasks automatically, brush gifts, play boss, and free your hands.
4. Turn on automatic machines, acquire coupons from the shopping platform, activate discounts, and assist you in making financial savings.
Advantages of Hero Mouse clicker
Beginner's Guide: Novice manual, which makes it simple for new users to utilize the software;
Global settings: Users can better utilize the software by using the global settings, which make it simple to specify the necessary values;
Accessibility services: Enable users to utilize open access services without requiring root access;
One-click operation, which has a very straightforward process and can be launched by manually configuring the parameters;
Common issues: Quick solutions to issues encountered, and easy access to solutions;
The purpose of the mobile phone version of the Hero Mouse clicker
On-Request Intervals: Coordinate various click intervals as necessary.
Simulated operation: Simulate safe, unbanned manual click mode.
Cyclic clicks: Constant clicking at a single spot.
Multi-point setting: Multiple points can be set simultaneously by clicking on the device's various coordinate points.
Update Content
The version 3.3.5
1. Added a function to cancel accounts
2. Added feedback for Thanksgiving and a happy-sending event
3. Supported by a few Android 12 models
The version 3.1.7
1. Improve the floating panel design
2. Improve the homepage's content display
3. Added a function to save scripts.
The version 2.3.1
1. Include a quick gesture setup
2. Update the home page with a fresh tutorial.
3. A fresh approach to the failure of accessibility permission
4. A press gesture for new growth
5. Add the swipe motion
6. Fix a few errors and improve the stability of the product