Today we will review the free auto clicker OP Auto Clicker – Auto Tap, which also has a pc auto clicker.
Next, the results of the Auto clicker for mobile are detailed.

The Advantages of OP Auto Clicker
1. This auto clicker 2022 has a simple main page, with no extra options. The main single and multi-point functions and all other functions are displayed on the main page. Although simple, the click interval, duration, and several cycles can all be set individually on the new page that appears after tapping the Settings button. This page design is not only simple but also easy for users to use.
2. Another user-friendly feature of this auto clicker is to adjust the size and transparency of the hover window, and click icons on demand. For example, when you are playing a game and don't want the hover window and the icons to block the game interface, you can adjust them.
3. Auto Clicker is free and has no ads, so there are no obstacles to using it smoothly. These are the advantages of this clicker.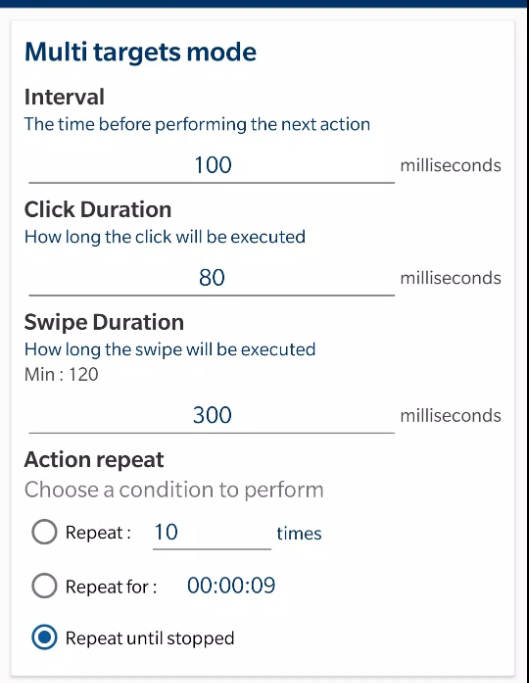 The Disadvantages
1. The first disadvantage of Auto Clicker is that the interface language is only English, which is only suitable for people who can read English.
2. The second disadvantage is that there are no advanced features, so if you are a user who requires more features, it is not very suitable. If you only need simple functions and hate complicated clickers, you may be like OP Auto Clicker.
Review: This auto clicker is simple and has no advanced or special features. So OP auto clicker is not the Best auto clicker app for android.
Auto clicker download:
https://play.google.com/store/apps/details?id=com.opautoclicker.autoclicker