Are you looking for an auto clicker that will work on a Mac? MurGaa auto clicker for Mac is the most user-friendly and practical software on the market. The program comes with multiple features which free you from endless clicks in games.
The best feature of Auto Clicker for Mac by MurGaa.
Various Click Type
You can have more various click types than other clickers such as click by left, right, center, double-click, and scrolling up or down.
Novice Tutorial
If you don't know how to install and use Auto Clicker, you can watch the novice tutorial on the MurGaa website.
Set click configuration
There is no restriction to set the number of clicks and interval time. This software doesn't matter if you execute it hundred times in five seconds or simply once.
User-friendly
The softwore is straightforward and it can run by customizable hotkey. So it is convenient and easy to use.
Advanced features
The Auto Clicker also has the advanced feature of looping playback. You can save the configuration and use it again to save the setting time.
Disadvantages of click software
Unfortunately, this clicker is not compatible with all Mac systems. It only supports macOS 10.5 and above.
There is a fee for this software, but there is a free trial period to see if it meets your requirements, and it costs $9.87 to use the software on a Macintosh for up to 6 months.
Install and Use
Download Click on the download link to download.
WatchIf you don't know how to install it, you can watch the video tutorial.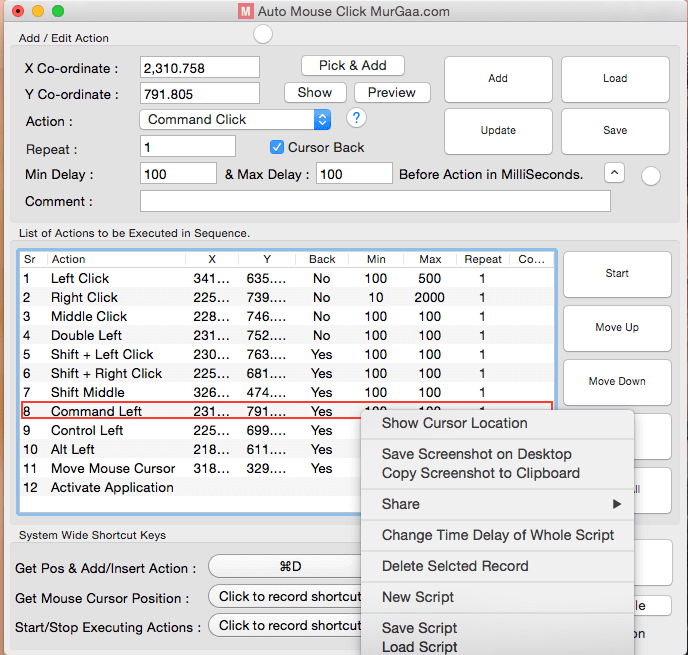 Frequently asked questions
Is there an automatic clicker for mac?
Yes.
What is the most helpful automatic clicker for mac?
Auto Clicker for Mac by MurGaa.
Related post
This article is about a clicker for Mac, if you are looking for a clicker for Windows, please read other articles.