The introduction of GS Auto Clicker
GS Auto Clicker is the most useful software to automatically click that benefit your work and life. As a tool popular among players, it is easy for people to get high scores in games. And you can remove monotony from daily work with the help of this tool. The use of this clicker will let you free from frequent mouse clicking that damages your mouse and fingers.
Features
Multiple hotkeys
If you need to set a series of clicks, you can press multiple hotkeys, which helps to automate the clicking movement without much delay.
Sequence record
The sequence of your clicks and their position can be recorded to save energy. You can repeat this entire input by clicking on the hotkey.
Easy to use
The simple menu makes you use it without any technical skills or knowledge. You can install it and start using it instantly.
No viruses
You can install it without any unwanted applications and doesn't come with viruses that harm your data and the performance of your computer.
No investment and Ads
Last but not the least, the clicker is free to use and will not bother you with any ads.
Compatibility
The Auto Clicker is compatible with all versions of Windows.
Download
You can download the GS auto clicker free and easily from this page.
The use of GS Auto Clicker
All settings of features can be found in Options, located at the top of the Auto Clicker. You can schedule the mouse clicks according to your convenience. The options that can be set are click mode, interval time, number of cycles, execution time, etc.The shorter the interval, the faster the click. Long clicks with short intervals may cause stuttering.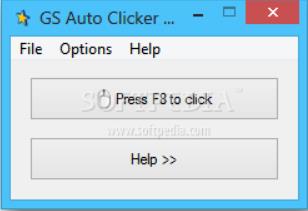 Related post
Other clickers of the same type